Action Plan: Supporting small businesses through the COVID-19 crisis and towards the future A 15-point action…
Download : https://www.wto.org/english/news_e/news20_e/rese_08may20_e.pdf
The first meeting of the Committee for Development of Non-Oil Export Support Package was held in 1399 with the presence of representatives of the Program and Budget Organization, the Ministry of Jihad Agriculture, the National Development Fund and the Deputy Minister of Planning and Planning of the Ministry of Industry, Mines and Trade.
According to the public relations of the Trade Development Organization of Iran, the Deputy Minister of Industry, Mines and Trade and the General Director of the Trade Development Organization of Iran on the sidelines of the above-mentioned meeting, referring to the communiqué of the First Vice President and Chief of Staff of the Resistance Economy. As of May of this year, he said: "In this meeting, the opinions of the member organizations of the Export Development Working Group and also the members of the selected working group of the First Vice President will be included in the draft of the support package for 1999 and finally the draft will be approved and sent to the Resistance Economy Command."
Zadboom mentioned the resources in the draft of the non-oil export support package, including the two parts of the resources of the National and Bank Development Fund and the budget of export incentives: According to the report received from the National Development Fund, the above-mentioned fund has deposited 20,000 billion rials in banks. The agent has applied to exporters to pay for export facilities. This amount has been deposited in Iran's Export Development Banks, Cooperative Development, Export Development, Agriculture and Joint Bank of Iran and Venezuela, and exporters can use this facility based on the indicators announced by the Trade Development Organization of Iran Use lot.
The Deputy Minister and Director General of the Trade Development Organization of Iran announced the interest rate of export facilities from the resources of the National Development Fund in the non-oil export support package in 1998 as 14.5% and said: "Due to changes in interest rates, the facilities approved by the Monetary and Credit Council In 1999, changes will be made in this area.
In the end, he said that foreign exchange facilities from the National Development Fund deposit in operating banks are important parts of the non-oil export support package for the year 1999 and said: "It is necessary to create conditions for exporters to receive these credits in the form of buyer and seller credit." It is worth noting that the amount of foreign currency deposits of the National Development Fund in the operating banks was one billion euros, which can be increased to two billion euros.
http://www.tpo.ir/index.aspx?fkeyid=&siteid=1&pageid=425&newsview=8983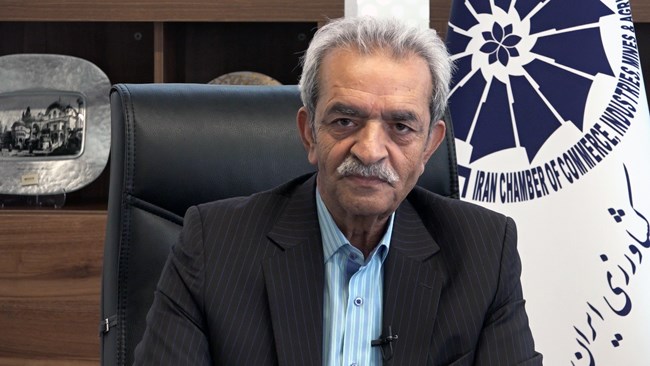 Gholamhossein Shafei, head of Iran's Chamber of Commerce, Industries, Mines and Agriculture, stressed in a note on the occasion of International Workers' Day that the common goal of workers and employers in the field of production is to adhere to the principle of tripartism to overcome business barriers.
International Workers' Day is an excuse to protect the efforts of those who stand at the forefront of production. However, it must be acknowledged that every day is a working day. Their steadfastness in this difficult situation, in which various economic and non-economic waves have rushed to production, is more commendable than ever. Employers and investors are well aware that their workforce is their most important asset in advancing things, so the employer appreciates and respects the worker more than anyone else. Employers who enter the field of production with their capital, and workers who use their power and effort as capital, follow the complexity of a path, and only the patterns are different.
As the chairman of the Iranian Chamber of Commerce, Industries, Mines and Agriculture, I acknowledge that with this definition, there is no boundary between worker and employer, as both are moving towards the same goal in the field of economics. Therefore, the activities of myself and my colleagues in the private sector parliament are based on supporting both groups. Consultations, meetings, correspondence, and efforts are all being made to improve the business environment to support the national economy and national production. The same field in which both the worker and the employer operate, and like a large ship, it has accommodated all stakeholders.
In the days when Corona's shadow has been added to the shadow of sanctions and both are weighing heavily on Iran's economy, the all-round unity and efforts of active groups in the field of business have become more urgent. All stakeholders must pursue the main goal without having to deal with disputes and deterrents in order to create a positive outcome in turning the wheel of the economy.
To make the "production leap" in line with the Supreme Leader's guidelines, there is a need for a redoubled effort to remove barriers, as Corona has emerged as the third major challenge in recent months, making it more difficult than ever. has constructed. Previously, two other obstacles, "unfavorable business climate" and "oppressive sanctions," had been a barrier to economic activity, and economists have struggled to get through. The new hurdle adds "unforeseen problems" to the previous issues, which we are going to address with government support packages. During this time we have had many correspondence with government officials, presented 30 proposals for the removal of barriers to business, and held a meeting with the President in which the private sector activists had the opportunity to address the issues raised. It is hoped that all the activities carried out will improve the business situation so that workers and employers will continue to work side by side and with concerns that are purely developmental and successful.
Observing the principle of tripartism in these difficult circumstances can be more helpful than ever. Workers, employers, and the government must work together on each and every step of the way to achieve their ultimate goal. At the last meeting of the Board of Representatives of the Iranian Chamber of Commerce, which was held on February 17 last year and before the start of the Corona Marathon, in the presence of the Minister of Cooperatives, Labor and Social Welfare, we stressed the need to strengthen the principle of tripartism, especially in the Social Security Organization. Hand it over. I also believe that today we need to expand and expand concepts such as decent work in the country. In order to have a prosperous and developed economy, it is necessary for labor and employers' organizations to come together. Without constructive and effective cooperation between the labor force in production and productivity in the country, the country's economy cannot flourish on its own.
The world's top ten exporters of medical products ship 27-77 per cent of these goods to their RTA partners according to the report. It also finds that WTO members have eliminated tariffs on over 84 per cent of medical products for 2020 under their various RTAs. Moreover, medical products face an average tariff of 1.6 per cent within RTAs as compared to the 3.8 per cent average tariff for medical products traded outside RTAs, suggesting room for further trade liberalization at the WTO.
The report also examines other provisions in RTAs that may restrict or facilitate trade and also highlights the need for forging mutual recognition agreements that recognize standard conformity assessments by authorities in other countries.
Key points
The share of exports by the world's top 10 exporters of medical products to their regional trade agreement (RTA) partners ranges from between 27 per cent for China to almost 77 per cent for the Netherlands. The majority of the top 10 traders in such products are EU member states.
In their RTAs, WTO members had liberalized over 84 per cent of these products by 2020. The share is higher for developed members (99.5 per cent) than for developing (84.3 per cent) and least developed members (68.4 per cent).
Developed members surveyed had eliminated tariffs (both most-favoured-nation (MFN) tariffs — i.e. without discrimination between trading partners — and preferential tariffs) in medicines and in their RTAs for medical equipment and personal protective (PP) products (compared to an average MFN rate of 0.2 per cent and 2.4 per cent respectively). Their average preferential rate for medical supplies is 0.5 per cent compared to an average MFN rate of 1.8 per cent.
In developing and least-developed members, average MFN and preferential rates are higher, especially for medical supplies, medicines and PP products.
The preferential rates of G20 members are less than half of their average MFN rates in 2020, with greater liberalization in PP products and medical supplies, again suggesting there might be room for further tariff liberalization on an MFN basis.
In addition to tariffs, there are other provisions in RTAs that may prove either trade-restrictive (such as rules of origin) or trade-facilitating (such as increased transparency and cooperation in the formulation of standards regarding medical products and/or procedures to obtain product registration certificates). Some RTAs also explicitly prohibit the use of export restrictions and taxes and import restrictions, except those permitted under WTO rules.
The COVID-19 pandemic has also highlighted the need for greater cooperation and efforts to reduce barriers to trade, including through increased mutual recognition agreements (MRAs).
The report is available here.
How can e-commerce bring economic opportunity to small businesses?
Tanglee Seepanthong sells meat, chicken and fish in Khuadin Market, Vientiane in the Lao People's Democratic Republic. After the first confirmed cases of COVID-19 in March her sales collapsed, as shoppers stayed away from the market. She turned to Facebook, offering online orders and free home delivery to residents of the city. Within days she had transformed her business, generating over five times her typical sales at the market.
It is not evident that e-commerce offers such easily accessible and lucrative opportunities everywhere. In some markets, including India and South Africa, all transportation of goods deemed non-essential has been banned, effectively suspending e-commerce for small businesses. In Europe, Amazon stopped the receipt of most inbound goods in mid-March, with the exception of a list of priority items. By limiting access to its outsourced logistics service 'Fulfilled by Amazon", Amazon effectively put a stop to the trade of many small businesses not in the 'essential goods' category.
Worldwide, the online channels benefitting from a demand boom in March (when most countries entered lockdown) were the major supermarket chains and online media, according to research firm Statista. Marketplaces and tech retail as a category saw low double-digit growth, while other sectors declined strongly or even collapsed as in the case of tourism and event platforms.
Early market data show variance across e-commerce markets since lockdown
According to analysis provided by COVID-19 Commerce Insight, based on the transaction data of 2,500 brands (customers of data services firm Emarsys) across 100 countries, pure e-commerce firms are so far holding up well in Europe and the United States, while Asia and Nigeria shows a continued decline in online sales. It would seem that where e-commerce has established itself among consumers, there has been a tendency to switch to purchasing online. Underdeveloped e-commerce markets were not sufficiently ready to respond.
Revenue data, pure e-commerce firms, all sub-sectors
Source: COVID-19 Commerce insight, https://ccinsight.org/
Emerging markets are suffering more
In emerging markets, it is still early to estimate the impact on retail and e-commerce. Initial interviews from other emerging markets, for instance Tunisia, indicate that home delivery services have become increasingly popular, which may indicate a change of purchasing habits.
Samia Ben Abdalla, founder of AwA Bags and jewellery in Tunisia, agrees that despite the collapse in online demand for her handbags and other handicrafts, e-commerce will be central to overcoming the economic downturn: 'E-commerce will prove to be a necessity and it will be even more important for companies (that continue their operations) when it's all over.'
African entrepreneurs are finding pockets of demand to beat the crisis. Esthy Asanthe, founder of trading group and online platform Organic Trade & Investments in Ghana signals an increase in demand for personal hygiene and basic foodstuffs: items that she sources locally and markets online nationally and internationally.
'We are focusing on essential products and advised our suppliers in that domain to be ready,' she says. 'Aloe Vera gel and hand sanitizers are two fast moving essential products. We are producing five tons of Aloe Vera gel and hand sanitizers per week. Other articles such as shea butter, cocoa butter, and African black soap are also in high demand. We are getting ready to supply the market (whether international or local) with edible commodities (rice, fonio, sesame seeds, soybeans, etc.) after the crisis. We have already received orders from international importers and local exporters for our crops. We know that there could be a food crisis but if we are well prepared, we can overcome it.'
Marketplaces are bullish for the future
Siva Devireddy, CEO and managing director of GoCop India is confident that his marketplace can be a source of increased and sustainable income to rural handicraft producers in India, as soon as restrictions are lifted. 'We have only just begun to develop international markets – and have a very compelling value proposition: good prices and products which are sustainably and ethically produced, making an impact for our communities.'
GoCop India, which works with rural handloom weavers across India selling their products directly to buyers across the world, has tried to maintain its business presence. He explains: 'We have no means of replacing the market demand lost to our sellers – but we are in regular contact with them, trying to use this downtime in the most positive way possible. Part of this is advice on innovative design and helping them to work on their inventories and catalogues.'
At start-up marketplace Azneo, Polina Valcheva, Head of Marketplace, agrees that in the long term marketplaces focusing on niche, high quality, sustainably and ethically produced goods will find a growing market: 'E-commerce has tremendous potential. This was true before the crisis and will now accelerate. A business, which had strong double-digit growth rates, may actually accelerate when governments lift the restrictions to movement. Mind-sets are changing, among both consumers and sellers. Brands that were uncertain about their commitment to e-commerce are very likely to switch their priorities toward digital. A whole new segment of consumers will have had an unsolicited crash course in the convenience of e-commerce.'
Her platform sees changing patterns of demand moving toward stronger relationships online: 'Forty-two percent of millennials reported forming or deepening a business relationship because a company's products or services positively impact society and/or the environment. Thirty-six percent did so due to a company's ethical stance,' Valcheva explains.
Chinese marketplaces are particularly innovative during the health crisis and appear to grow their earnings as the crisis abates. Alibaba has waived service fees across its various platforms and offers free services, reduced or no charges for warehousing. Its major rival, JD.com focuses on facilitating the opening of new accounts for small businesses in less than six hours. All of them have proposed various low interest loans to finance e-commerce activities of small firms.
Small businesses are trying to stay alive while waiting for the boom after
Chris Folayan Founder and CEO of Mall for Africa, is positive about online trade: 'I am very confident that e-commerce has a major role to play in the economic growth of Africa, and some of this is already happening. But we still have a lot to do. Everyone likes to point out the challenges of infrastructure in Africa, such as expanding digital connectivity and improving transportation networks. These are important to address, but can generally be bypassed. There is a tremendous amount of entrepreneurialism in local delivery networks: in general you can make deliveries in Africa.'
Not only that. He explains: 'Beyond the immediate crisis, small firms need to invest in education and digital skills. E-commerce is sure to grow in importance and may even boom after the crisis. I genuinely believe increased demand for e-commerce will come from just about everywhere – and that this will offer opportunity, whether you are in Ghana, Rwanda or Zambia. This is the moment – if you have time – to improve the planning and documenting of your inventory, learn about digital tools for communication and promotion and plan how you might capture the wave.'
Building on e-commerce research and case studies
The International Trade Centre's (ITC) ecomConnect programme is building a community of e-commerce entrepreneurs engaged in the development of online business, by facilitating learning, innovative solutions, collaboration and partnerships. On the platform ecomconnect.org, a series of case studies show how entrepreneurs in developing countries are reacting to the crisis and preparing themselves for what comes next. By registering on the platform, you can gain access to the network, webinars, tools and guidelines on related topics for small businesses.
http://www.intracen.org/covid19/Blog/The-e-commerce-response-to-COVID-19/
Metal Market Magazine April 2020